Skip to Content
Custom Millwork & Built In Units
Custom Millwork and Built-In Units
Have you always dreamed of having a luxurious built-in closet system? Do you want to add a cozy breakfast nook to your kitchen? Or would a new fireplace surround help elevate your living room to a new level of elegance?
Whatever millwork or built-in project you're interested in, our team at Custom Craft Cabinets & Millwork in Burnaby, BC, can help. We provide skilled carpentry, cabinetry, and millwork services to homeowners and business owners, helping you craft the space of your dreams. Our design team will meet with you to understand your vision and goals for the space, asking you questions about desired use and aesthetic. We'll then work to design the perfect piece for your space, whether you're interested in a wall unit, banquette, built-in unit, fireplace surround, or other project. Once we have the design just right, we'll get to work building and installing your new piece, using quality materials and always ensuring the highest quality craftsmanship.
Some of the common custom millwork projects we undertake include: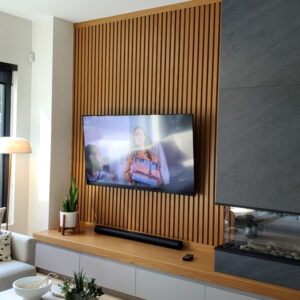 Wall units
Whether you want a custom entertainment center, a bookshelf for a unique space, or a built-in desk system, our team at Custom Craft Cabinets & Millwork can help. Our custom millwork experts can craft custom wall units built just for your space and needs. We'll consult with you about the purpose and desired aesthetic of your space, designing a wall unit that fits your needs and budget.
Banquettes
Adding a banquette to your kitchen or porch is a great way to create a cozy breakfast nook or a space for your kids to spread out their homework while you cook dinner. Our team will work with you to understand your ideas, crafting a custom banquette suited perfectly for your space.
Built-in units
Adding built-in units to your closet or a wall of your living room can greatly improve your storage space or enhance your display capabilities. Maybe you want a custom built-in closet system designed to hold your shoes or a stunning open shelving system to display your art and books. We will work to understand your aesthetic and functional goals, designing and building a beautiful built-in unit to your specifications.
Fireplace surrounds
If you have a fireplace in your home or are interested in installing a new gas fireplace, adding a beautiful fireplace surround is the ideal way to enhance its elegance and function. We can craft ornate surrounds that make the fireplace the focal point of the room or build sleek, functional mantels and shelving to display art. Our team will consult with you about the style you're going for and what purpose you want the surround to serve, bringing you a range of designs to choose from before crafting the final product.